Superior Comp Spec Heavy Duty Solid Bar Drag Link Toyota Landcruiser 79 Series Single Cab 2016-On Adjustable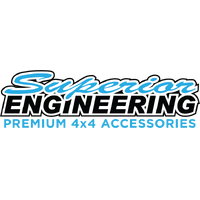 $570.00

More info.
Make 4 interest-free payments of $142.50
In Stock
Superior Comp Spec Heavy Duty Solid Bar Drag Link Toyota Landcruiser 79 Series Single Cab 2016-On Adjustable
Only suitable for suspension lifts of 2" or greater, NOT to be used on standard height suspension.
Not suitable for fitment with a Browns Davis Radiator Guard
This is an adjustable Drag Link Comp Spec Suitable For Toyota LandCruiser 76/78/79 Series (V8 model only). New design with a stronger high angle Nissan style rod ends.
Comp Spec Drag links are made from High Tensile Steel Bar, 35OD solid 4340m finished in an anti-corrosion zinc finish. Ideal for the hardcore 4wheeler or if you just want peace of mind you won't bend your steering rods. This will give you peace of mind you will never be stranded with a bent steering link.
The drag links come complete with drag link ends.
NOTE: Superior recommends the use of the Superior Steering Damper with this Draglink. If using a different Damper it must not be longer than 470mm full closed.
The 4WD Shed is an Authorised Stockist for Superior Engineering.
Please Note: Though we try to keep the popular items in stock on occasion we may need to order from the warehouse. Superior Engineering manufacture thousands of products & we don't have the space to keep every item in stock at our retail store. If its not listed on our website please let us know & we can help you create an order. You are also more than welcome to contact us for availability before purchasing. We will notify you of any delays to your order, so please check your email for any updates.
Patent – 2019100726 Patent Pending - 2018904644
Please also note that the lower radiator hose clamp should be rotated for clearance of the damper. Please see the image below for reference.

PLEASE READ:
Superior Engineering and other Brands of Steering components are replacement items that are in most cases upgraded to be a stronger better choice than the factory item. The Superior Engineering steering Components will meet or exceeds the factory specifications of OEM products. Although Superior Engineering and other brands may be stronger or exceed OEM specifications maintenance must still be performed on the components to ensure a safe and reasonable life out of the products. For all steering products, it is recommended to carefully check over the ends, internal and external threads and on hollow bars inside the rod every service you have on the vehicle or 6 monthly minimum to ensure nothing is loose or damaged or rusted. It is recommended to ensure no rust has formed on any steering parts as this may shorten the life or warranty of the product. Due to the harsh environments such as beach work or general 4wding rust may quickly form on steel steering components, it is recommended to replace the items if rust is present. If there is any wear or "play "in the ball joints, Tie rod ends or threads they must also be replaced for safety.
Due to shortages in steel supply at this current time, this product may be supplied in either of the finishes shown in the image below. We are not able to guarantee which finish will be supplied but they are both of the same tensile strength and carry the same warranty.
(SE-38743)
The 4WD Shed is an Authorised Stockist for Superior Engineering.
We stock, supply & fit a large range of items that can be found on Superior Engineering BUT in some instances there may be delays in stock or if it is a special order item.
We aim to ship items within 1-3 business days but if your order contains any items that fall under the above conditions we will contact you to notify you. If you wish to check availability before purchase you can call us or send an email.
Due to the weight of Superior products we may be required to quote freight on multiple items. We will contact you before beginning to process your order otherwise you can contact us for a freight estimate. We will try & keep costs down where we can so this may mean that we split your order over 2 parcels in order to keep weight & costs down.
Please make sure you have a valid contact number in your order details for us to contact you regarding any delays.
| | |
| --- | --- |
| SKU | SE-38743 |
| Brand | Superior Engineering |
| Shipping Weight | 14.0000kg |
---
More From This Category