The 4WD Shed Newsletter - April 2020


Restrictions Continue....
Restrictions are still continuing throughout Australia to
stop the spread of the COVID-19 virus. The biggest part of the new rules to affect our community is the ban on going away up the bush as most of us would be doing this time of year with school holidays & Easter upon us. We totally understand why it's in place currently & until they lift, we encourage our customers to tackle those jobs to your vehicle from the safety of home.
Whether it is maintenance needed or adding accessories, take the time to complete those jobs that have been nagging away at you! We can supply you with a number of parts & accessories that can be completed at home with the right tools & know how. We are still business as usual & shipping daily all aorund Australia.
Need to service your 4WD? We have a range of complete Filter Kits from Sakura which means you can complete a full oil, air & fuel filter service with the correct parts. We also have a range of Swivel hub & wheel bearing kits available all supplied with greta quality bearings to keep you on the road.
What about installing some LED Lights? We have a range of LED Light Bars, Spot Lights & Work Lights. We have a range of accessories available from Hulk 4x4 to build your lighting system no matter how simple or complex.
Own a late model ute & want a quick little kit that not only makes your life easier but safer for the kids too? Check out the Easy Up & Slow Down Tailgate kits. They take the strain out of lowering & lifting the tailgate on your Ranger, BT50, Colorado, NP300 & now the MQ & MR Triton.
Need some professional help? We have a workshop located in Bayswater, Vic that can help you get those jobs completed no matter how big or small. We have a well set up workshop with experienced staff who can help you with your engine, suspension, servicing, aircon & accessory fitting needs. Just give us a call to book in or email our staff for a quote.
We are offering contactless options for 4WDs being dropped off, payment can be made over the phone & strict hygiene protocols are in place to protect our staff & customers at this time. We recommend if booking your car in, you dont hang around, we will give you a call once your vehicle is ready.
Online shopping is as normal & though Pick up is still available though we recommend giving us a call to check stock is available & to avoid wait times instore.
Check the button below for more information on what we are doing during this time & how you can help us.
Roadsafe 4WD April Promo!
Spend $300 instore on any Roadsafe products to receive your free Roadsafe 4WD 3m Safety Sand Flag. Available instore whilst stocks last.
Roadsafe 4WD Sand Safety Flags give drivers a greater chance of seeing approaching vehicles and minimise the risk of accidents when cresting dunes. That is why there is now a Simpson Desert requirement to attach a sand flag when crossing the Simo.
The Sand Flag is supplied in three 1m long pole pieces, thet screw together to give the height required. Depending on where you mount it on the vehicle, you have option 1, 2 or 3 pieces to get you to the required height.
Easy to store too, with the supplied bag, in 1m sections.The flag poles are fiberglass, for strength and flex, with PVC coating for protection and durability, supplied complete with stainless fittings, including quick release snap on base and 300X300 high vis flouro orange double stitched flag, with reflective silver cross
.
Servicing your vehicle
Servicing your vehicle is a must before heading offroad, to keep your vehicle reliable as well as your loved ones safe.
We also recommend a check over once you have returned, always clean off mud, sand or salt water after travel to avoid costly repairs in the future.
We always recommend using a professional if you don't have the tools or experience to service or repair your vehicle. This can also avoid the need to fork out extra for repairs on jobs not done correctly.
Sakura Filter Kits
Sakura Filters Australia has been in the aftermarket filtration industry for over 25 years now and are one of the market leaders in the import, distribution & export of automotive, commercial and heavy equipment filters.
New vehicles or equipment's warranties remain in effect when Sakura Filters are installed in accordance to the engine manufacturer's advice.
Available to suit a large range of vehicles, take the guesswork out of part numbers with this all inclusive kit.
Swivel Hub & Wheel Bearing Rebuild Kit with GU Nut Upgrade suit Nissan GQ Patrol
Includes All Seals, Gaskets & Bearings to Rebuild both Swivel Hubs.
Supplied with quality seals & bearings. Includes Wheel bearings, Axle Seals, CV seal, King pin bearings, Wipers seals & GU Nut upgrade with tool
Everything you need to overhaul BOTH sides of your GQ front diff.
The GU nut upgrades the standard GQ ones to the much better GU locking nut system also provided with the Hub socket tool.
Featured Product.....
We love to highlight great products that are handy to use & easy to install.
Hulk 4x4 Dual Colour LED Light Strip Kit
Flexible LED Camping Strip Light 12v 17.28 Watts 1.2m long. Dual Orange & bright white illumination.
The orange reduces the attraction of insects. 144 High Intensity 5050 SMD LEDs. 120 Specialized Optics, 700 White or 250 Orange lumens & 6000K suitable for indoor or outdoor use.
Superior flexible properties enabling limitless applications, can be folded away for easy storage
Just Released from Grunt 4x4!
Grunt 4x4 have just released their tailgate strut system to suit the Mitsubishi Triton MQ & MR.
The Easy up & Slow Down System makes lowering & lifting your tailgate a breeze. Lighten the load of your tailgate by up to 70% with this easy to install kit. Simple bolt in design* you can fit these easily to your late model vehicle.
Designed to be vehicle specific, models include Ranger, BT50, Colorado, Dmax, NP300, Hilux & Tritons.
The 4WD Shed is an authorised Stockist of Grunt 4x4 products.
*some model kits may require drilling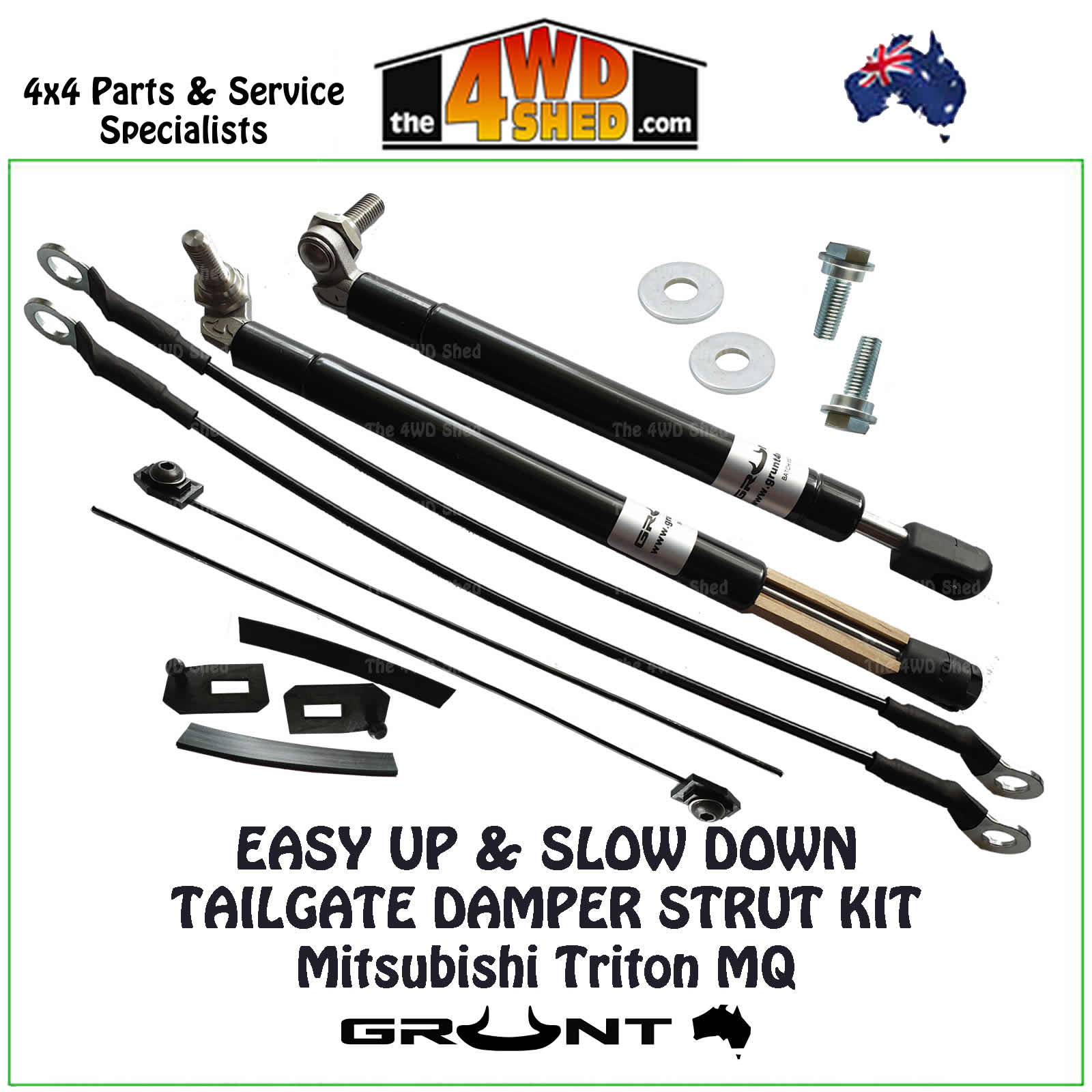 Easy UP & Slow Down Tailgate Strut Kit Mitsubishi Triton MQ
EASY UP & SLOW DOWN TAILGATE GAS STRUT KIT MITSUBISHI TRITON MQ
Are you sick of your tailgate slamming down under its own weight? Want to be able to easily lift the tailgate after you've finished loading into it? Worried about the kids accessing it & getting their fingers caught? Do you just cringe every time you hear it slam on your expensive vehicle?
These Easy Up & Slow Down Tailgate Struts lighten the load of your tailgate by up to 70% Easily & Quickly mount these two struts, one either side of your tailgate for easy, safe access when ...
R.W.C Testing
General & Specialist Servicing
Log book Servicing
Engine Conversions
Brakes & Clutch Repairs
GVM Upgrades
Coil Conversions
Air Conditioning Repairs & Services
Accessory Fitting
Winch Installations, Repairs and Upgrades
Diesel & Petrol Servicing
Suspension & Lift Kit Upgrades
Bullbar & Rear Bar Installation
Part Time Kit Installation
Wheels & Tyre Packages
Wheel Alignment & Balancing
Refridgeration Trading Lic No AU44913
RWC Licensed Tester 10673LV
Who doesnt love FREE stuff?
Shop online & earn rewards points to be cashed in on your next purchase.
All you need to do is shop online & they will automatically be applied to your account.
Next time you shop just cash them in when you check out!