The 4WD Shed Newsletter - August 2020
Date Posted:1 August 2020


Restrictions are back but we are still open!
After what seemed to be a move in the right direction with restrictions easing, here in Victoria we saw an increase in case daily until restrictions were put back in place last month. Starting with certain "Hotspots" continued positive results have seen Melbourne Metro & Mitchell Shire return to Stage 3 Restrictions.
This means that people living in these areas are restricted in recreational tarvel to areas outside of these zones & advised to only leave their homes for the 4 essential reasons. This can lead to confusion as the literature wasnt overly clear about visiting an automotive business such as The 4WD Shed.
AAAA (Australian Automotive Aftermarket Association) has shared its concern about reports that Police are advising some motorists that Automotive is not an essential service during lockdown in Victoria. The Victorian Government has confirmed that automotive service is essential to households. Our advice to you is the following message:
"We can confirm that we are still open during Stage 3 restrictions in Victoria in line with essential service requirements. The Minister for Police has formally confirmed that Victorians can engage in movement associated with the service and repair of their vehicle. We thank you for your ongoing support in these difficult times."
Our team has continued throughout to practice social distancing, hygiene & other prevention methods to keep both our customers & staff safe when at The 4WD Shed. We have a limit in our retail showroom of 15 patrons to keep the required 4m square guidelines & also offer a santising station at our front door before entering as well as a number of hand santisers located around the showroom & counters.
We have expanded our counter sales area so we can comfortably serve a number of customers whilst keeping a safe distance between everyone & continue to offer contactless payment method & keydrop facilities if required. Please let us know if you require any extra measures when booking , we are happy to accommodate you.
Remember to stay up to date with The 4WD Shed like us on Facebook & Instagram.
Huracan Fabrication products now available
We love working with businesses that can supply us with great products!
Huracan Fabrication is no different! Well known for their range of Custom 4WD Seat Adaptors, Tailgate Storage Kits & Accessories they are 100% Australian Owned and Operated providing a high quality product.
Huracan Fabrication has a range of seat adaptors to upgrade your factory seats to the XR6 & VE/VF series seats model dependant. After putting a set of VE seats into our 80 Series & loving how easy it was with their kits we knew we had to add them into our retail store.
They also have a range of Tailgate Storage kits which take a previously unused space in your vehicle & make it available to store items such as recovery gear into a previously wasted space. Check out some photos of Huracan Fab products installed at The 4WD Shed on our social media pages. We can not only supply the product but fit it also! Call to book your vehicle in for its next mod.
Seat Adapter Kit Nissan Patrol GQ

Seat Adapter Kit to suit Nissan Patrol GQ

The Huracan Fabrication Seat Adaptor Kit to suit Nissan Patrol GQ is compatible with any BA, BF, FG or FGX Ford Falcon seat or VE Holden Commodore seat.

The Nissan GQ Patrol kit will do both the front seats. Available by request for Single seats only.

Our adapter kits come with everything you need to directly bolt in both front seats, right down to the last nut and bolt along with step by step instructions. ...

Ford Ranger Tailgate Storage

Ford Ranger PX1 PX2 PX3

The Ford Ranger PX tailgate has a capacity for a large amount of storage. Despite all the space available in modern utes, there isn't often any great location for small kit that you don't want just floating around your tub such as 4WD Recovery Equipment & first aid gear.

Fully lockable, it comes with gas struts to keep the lid steady when open and a carpeted interior. Once installed, this tailgate is easily as strong as the factory tailgate.

Gear Stick Extension 75mm

75 76 78 79 Series Landcruiser

Many people complain that the 70 series Landcruiser gear stick is too short.

This simple extension of either 50 or 75mm allows you to move it into a more comfortable position for every day driving.

The extension is CNC machined from 6061 Aluminium and has a black anodized finish that very closely matches the factory stalk.

Australian Made! Once installed, it looks completely factory.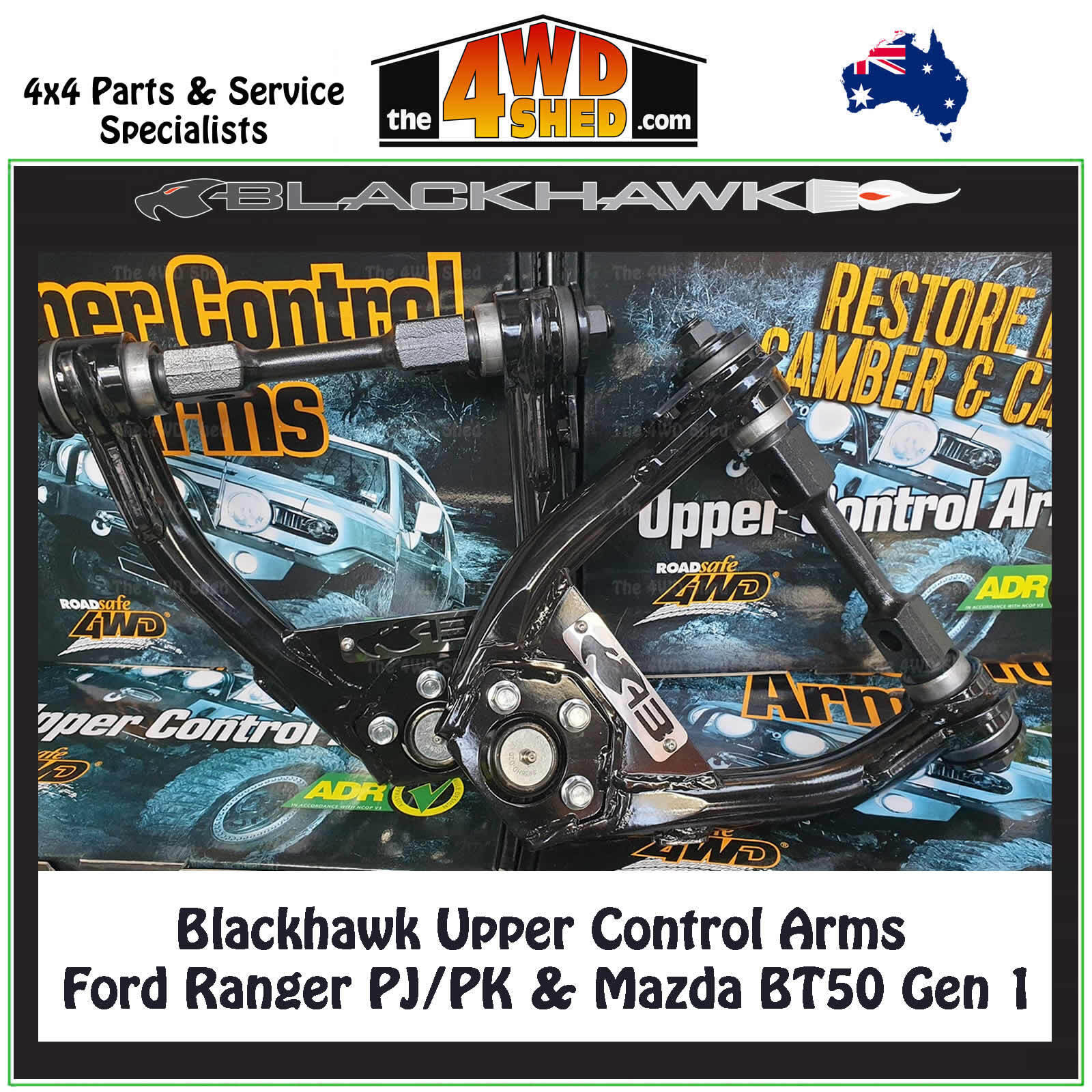 BRAND NEW RELEASE!
The new heavy duty Roadsafe "Blackhawk" range of Upper Control Arms have been designed with ease of fitment & ongoing serviceability in mind, & are a necessity for various IFS models that have been lifted 30mm+.The Roadsafe "BLACKHAWK" arms have been designed to restore camber & caster lost on IFS vehicles once they have been lifted, by correcting the angle of the ball joint.
Buy Now $799.00
Did you know..
We not only sell & fit a range of products we can also fit products you have purchased elsewhere. Maybe you bought them & then realised you didnt have the space or tools etc to get your latest purchase fitted. Maybe you don't have the time to get it finished. Give us a call & we can fit your next mod.
Michael had bought some FRP flares for his 76 Series Landcruiser & sent us an email asking if we could help him out. Of course we were happy to get him sorted out. Check out the photos below, the cruiser definitely looks tougher now without losing that factory look.
Wally was the first to get a brand new set of the latest release from Maxxis....the AT811!
With all the R&D they put into the popular MT772 RAZR we are excited to now offer an All Terrain alternative.
Check the link below for sizing & check out our social media for more info.
Swivel Hub & Wheel Bearing Rebuild Kit Nissan GQ 1987-1999

Swivel Hub & Wheel Bearing Rebuild Kit for Nissan Patrol GQ

Includes All Seals, Gaskets & Bearings to Rebuild both Swivel Hubs. Supplied with quality seals & bearings.

Wheel bearings, Axle Seals, CV seal

King pin bearings, Wipers seals

Everything you need to overhaul BOTH sides of your GQ front diff.

We also offer this kit with the GQ to GU Hub Nut Upgrade with the Hub Socket included.

DIY Part Time 4WD Conversion Kit - Landcruiser 80 Series

DIY Part-time 4WD Conversion Kit - Landcruiser 80 Series

Comes with NEW Koyo bearing fitted to spool (eliminating the need for a press) & transfer case sealant


Toyota LandCruiser 80 series>
To suit HF2A full-time transfer case: - Toyota LandCruiser 80 series - Lexus LX470

Marks 4WD Adaptors manufacture a heavy duty part time 4WD conversion for the 80 series HF2A full time 4WD transfer case as fitted to all RV, GXL, and Sahara Land Cruisers manufactured from 1990 on.

Rear Adjustable Panhard Rod Nissan Patrol GU

Adjustable Panhard Rod - REAR

Nissan Patrol GU All Utes & Pre 1/2000 Wagons

This is a heavy duty Superior Engineering rear adjustable Panhard Rod Suitable For Nissan Patrol GU Pre 1/2000 Wagon and All Utes.

Adjustable panhard rods are needed when performing any lifts over 2 inches and over.

They are adjusted so as the axle sits directly underneath the chassis.

These panhard rods also come fitted with genuine Nissan bushes....
Our Workshop is Open
R.W.C Testing
General & Specialist Servicing
Log book Servicing
Engine Conversions
Brakes & Clutch Repairs
GVM UpgradesCoil Conversions
Air Conditioning Repairs & Services
Accessory Fitting
Winch Installations, Repairs and Upgrades
Diesel & Petrol Servicing
Suspension & Lift Kit Upgrades
Bullbar & Rear Bar Installation
Part Time Kit Installation
Wheel Alignment & Balancing
Wheels & Tyre Packages
Refridgeration Trading Lic No AU44913
RWC Licensed Tester 10673LV
Shop & Earn

Who doesnt love FREE stuff?
Shop online & earn rewards points to be cashed in on your next purchase. All you need to do is shop online & they will automatically be applied to your account.Next time you shop just cash them in when you check out!

Join 4WD Trip today

Love 4wding?

Your 4WD Trip companion is here

Explore 4x4 destinations, 4WD Tracks and much more. Share 4x4 tips and experience. Organise your trips with our powerful tool.

Now you got your new gear, why not join a trip on 4wdtrip.com
Dont forget to check us out on social media. We are actively loading different content online with some of the great vehicles we get to work with as well as new products & upcoming events.